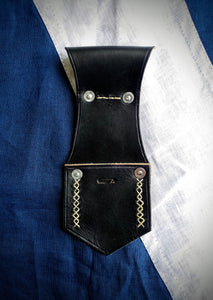 Based upon surviving Canadian and American examples, as within the Canadian War Museum collection, this British bayonet frog is produced using veg-tanned leather, dyed by hand using oil dye and sewn using waxed three cord linen thread. The frog is also secured using solid brass rivets, as found on the Canadian example of this item. The frog in question can be combined with various scabbards, using most often that of a British Long Land and Short Land Pattern "Brown Bess" bayonet and scabbard. This specific frog would have been secured upon the belting of a British solider in the American War of Independence, often on the belting of a Light Infantry solider's belly box, as well as within the Seven Years War / French and Indian War.
This item is made to order and will be ready in less than four to five weeks (usually sooner) from the order date.
This item is both durable and an exact reproduction of the originals, to the fullest extent possible. All items are sold as is and are produced on a per order basis; each work is a custom piece and reproduced (where applicable) by hand and using period materials as close as possible to the original materials used in the 17th, 18th and 19th centuries. All items may be subject to a delay and currently each item will require one to two weeks to produce and ship from our workshop, unless otherwise noted. All bespoke modern and historical clothing and items are dependent upon the measurements provided by you, the buyer and we cannot take responsibility for mishitting items as a result of improperly provided measurements and associated requirements. Custom fitting appointments are available in person and virtually, for those who require them and where applicable; please contact us as to arrange such an appointment. Please contact us for special requests, specific items that you might have in mind and other such requirements that we might be able to assist you with. All items are sold as is and subject to the returns and exchange policies noted for this shop; please see all policies.