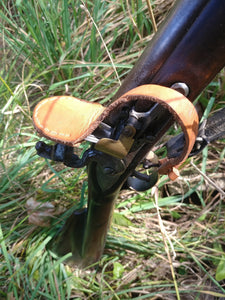 This hammer stall is an exact reproduction of the style seen in the David Morier series of Grenadier Paintings, also seen in various museums, such as the surviving Russian example.
The hammer stall is produced in veg-tanned leather and sewn with a three cord waxed linen thread. The item is also cut as to permit the hammer stall to be secured to the swivel of a musket, fitting upon the frizzen, or "steel", fitting nicely upon larger muskets such as the Long, Short and Indian Pattern "Brown Bess" muskets and the "Charleville" style of musket. This exact style of hammer stall is the preferred variation within the majority of organisations and associations, being appropriate for eras such as those of the American Revolution, Seven Years War / French and Indian War, Napoleonic Wars and War of 1812.
This item is made to order and will be ready in less than four to five weeks (usually sooner) from the order date.
All items are sold as is and are produced on a per order basis; each work is a custom piece and reproduced (where applicable) by hand and using period materials as close as possible to the original materials used in the 17th, 18th and 19th centuries. All items may be subject to a delay and currently each item will require one to two weeks to produce and ship from our workshop, unless otherwise noted. All bespoke modern and historical clothing and items are dependent upon the measurements provided by you, the buyer and we cannot take responsibility for mishitting items as a result of improperly provided measurements and associated requirements. Custom fitting appointments are available in person and virtually, for those who require them and where applicable; please contact us as to arrange such an appointment. Please contact us for special requests, specific items that you might have in mind and other such requirements that we might be able to assist you with. All items are sold as is and subject to the returns and exchange policies noted for this shop; please see all policies.