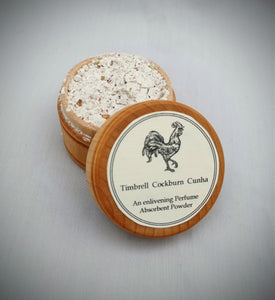 A complete reproduction from an 18th century formula, this perfume powder is as close to the original as possible. This enlivening perfume powder has strong hints of exotic flowers, as well as a pleasant herbal and spice note, quite a indulgent treat and one that has been reproduced using the finest herbs, spices and floral ingredients, inclusive if imported perfumer's oils. The powder itself, four generous ounces of it, is provided with a beautiful wooden box, used to store the powder and to prevent it from obtaining too much external moisture, with the powdered sealed in a separate container to prevent spillage during delivery.
Powders such as these were used by both women and men as a means of scenting the body without overpowering the senses and as a means of also scenting the hair. Applied sparingly to all parts of the body and hair, this would mask any unpleasant body odours, while also absorbing sweat, preventing chaffing as an added benefit.
All items are sold as is and are produced on a per order basis; each work is a custom piece and reproduced (where applicable) by hand and using period materials as close as possible to the original materials used in the 17th, 18th and 19th centuries. All items may be subject to a delay and currently each item will require one to two weeks to produce and ship from our workshop, unless otherwise noted.
This item is made to order and will be ready in less than one to two weeks (usually sooner) from the order date.
All bespoke modern and historical clothing and items are dependent upon the measurements provided by you, the buyer and we cannot take responsibility for ill-fitting items as a result of improperly provided measurements and associated requirements. Custom fitting appointments are available in person and virtually, for those who require them and where applicable; please contact us as to arrange such an appointment.
Please contact us for special requests, specific items that you might have in mind and other such requirements that we might be able to assist you with. All items are sold as is and subject to the returns and exchange policies noted for this shop; please see all policies.